Top Ten Reasons
To Join Petah Tikva Anshe Catilla Congregation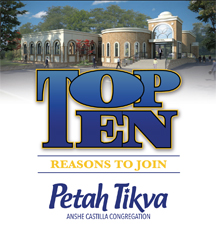 Click on the image to get to the flyer from Petah Tikva, the first Sephardic synagogue in Toronto.
Petah Tikva's mission is to provide their members with a Sephardic synagogue that follows the customs of the Jews of Northern Morocco. They offer daily services, educational and social programs in a warm and welcoming environment. Petah Tikva Congregation is family-oriented and committed to building a strong and caring community rooted in Torah values, mitzvoth and chesed.
To view their weekly bulletin, click here.