Rabbi Elyse Goldstein of City Shul is Honoured to Receive Shaar Shalom Torah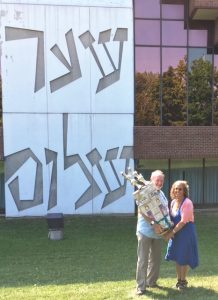 Rabbi Elyse Goldstein recently forwarded their newsletter to us to show just how thrilled their shul is to receive a Torah from our congregation. This ensures that the legacy of Shaar Shalom will go on in the City Shul as elsewhere. Select the link to read Rabbi Goldstein's newsletter.
Additionally, the City Shul plans to dedicate the Torah, Chanukat HaTorah, on November 19th, 2016 and is inviting those from Shaar Shalom who would like to experience this dedication to their Shabbat service. Mark your calendars.
Saturday morning, Nov. 19, 2016 at 10:00
Wolfond Centre, 36 Harbord St.
Toronto