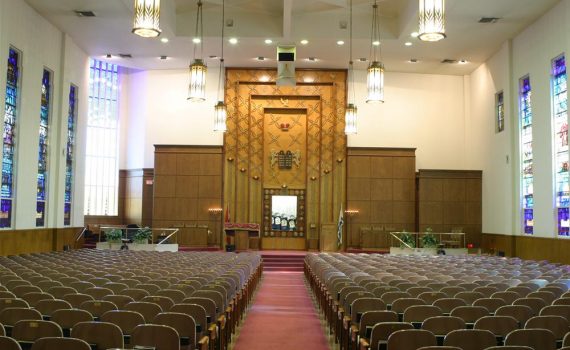 Beth Sholom Synagogue
Midtown Conservative Shul
Beth Shalom Synagogue is located at 1445 Eglinton Ave. W., Toronto. This is a well-established Conservative shul on Eglinton at the foot of the Allen Expressway.  Below you will find a letter from Beth Sholom's President.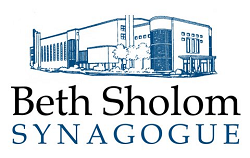 Dear Shaar Shalom Member;
Although we are saddened by the loss of your synagogue community, we are very excited about the opportunity to invite you to join us and become a part of ours. 
Here, you will find a warm and welcoming congregation, led by Rabbi Aaron Flanzraich.  Our services have a traditional format, yet are modern, inclusive and engaging within traditional conservative Judaism, as evidenced by our once monthly Shabbat Beth Sholom; a Shabbat program that begins with a learning session with the Rabbi at the Shabbat Café followed by a unique musical Shabbat service interspersed with short sermonettes from Rabbi Flanzraich.
We have also recently introduced a new concept Hebrew School – Sholom Learning, a new approach to Hebrew school – flexible, innovative and active learning.  It includes two components – Shabbat Do-n-Learn which is a twice monthly Shabbat Family experience where kids learn about Jewish Values, prayer, Bible stories, holidays etc. through experiential, interactive activities.  The second component – Hebrew Connections is all about learning Hebrew through singing, movement, speaking and listening in a fun, interactive environment. 
Beth Sholom, under the direction of Cantor Eric Moses, prides itself on its innovative musical component, exclusive to Beth Sholom – our Ruach singers A Capella choir.  We continue to offer a traditional professional choir and are very proud of our young Junior Ruach singers youth choir. 
It's important that families pray together at High Holy Days so we provide all members with reserved high holy day seating in two choices of rooms and provide for the opportunity for members to pre reserve seats with their families for their guests. 
If you would like more information detailing the opportunities available to Shaar Shalom members, please contact our Executive Director, Barbara Berke who will be happy to provide you with this information.  
We look forward to welcoming your family to our family.   
Sincerely,
BETH SHOLOM SYNAGOGUE
Steven Goldenberg
President